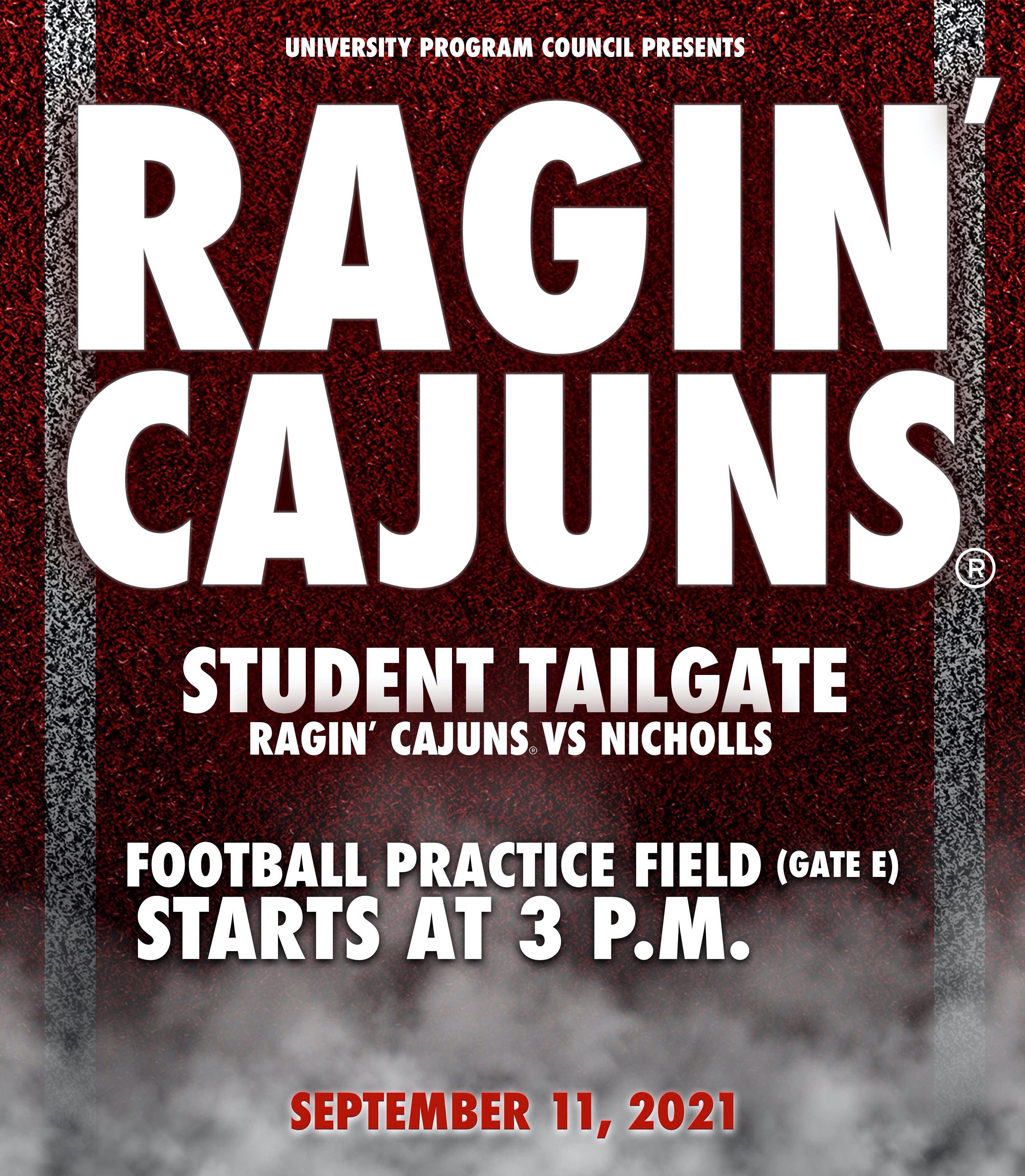 UPC is proud to continue a UL Lafayette tradition, Student Tailgating! Come join the Ragin' Cajun community, and get involved with kicking off home football games. Space for student tailgating has been reserved at the Ragin' Cajuns practice field near Gate E at Cajun Field. It's going to be a great season with our team and Coach Napier.  You will definitely want to start your tailgating in the Student Tailgate Area and then head in to the game to continue celebrating and cheering our Ragin' Cajuns on for the WIN! Students will need to register for each individual Tailgating event; it's a short form that won't take long to complete. The form is shorter now!  Just go to Engage or click on this link.
Student Tailgating Rules and Regulations For All Students and Student Organizations
Registering to tailgate in the student area is REQUIRED.  All students participating in this event are required to have knowledge of and follow all laws, University policies, and the Student Code of Conduct.  These can be found at https://studentaffairs.louisiana.edu/student-handbook and https://studentrights.louisiana.edu/student-conduct/code-conduct. Drinking games and common sources of alcohol are prohibited per the University Alcohol Policy. 
A representative who signed up for the Tailgating Spot must be available at the designated tailgate spot during the duration of the tailgate.
You are responsible for the behavior and actions of your members and guests and the University reserves the right to revoke the use of a Tailgating spot at any time.
All groups/students registering must display a Student Tailgate Pass on their tent or on something that is above crowd level (easily seen by a passerby).  One designee (who will be present at the tailgate) must pick up and sign for the Pass in Dean of Students Suite-Student Union Room 169 on each Thursday before game day, no later than 5pm.  (We will give you the unique pass for that game, a plastic sleeve, and a zip tie)   This process will be repeated for each home game.
Each tailgate space pass will come with 1-2 student parking passes for the student parking area. Only vehicles with a parking pass for Cajun Field will be allowed access to any of the areas surrounding the Gate E tailgating space on game day.  No vehicles are permitted to be in the student tailgating area.
Tailgate spaces may be claimed beginning at 12:00 p.m. on Friday through Saturday at 8:00 a.m., on a first come, first served basis. We will not assign each individual space. During set up times above, you can drop off trailers, grills, etc. to be at your space, however, vehicles may not be parked in the tailgating area.  After 8:00 a.m. on game day, tailgating items will have to be walked in.
All participants will provide their own tailgating supplies including music, refreshments, tents, tables, and seating (NO INDOOR FURNITURE, COUCHES, ETC.). 
Music must be shut down 30 minutes prior to game time. Tailgate setups are allowed to remain in place during and after the game. Tents, chairs, and other items must be removed no later than 8:00 a.m. the following day (Sunday). 
Port-o-potties WILL be available at student tailgating.
Gate E admission and bag check areas will remain open and in their same location as in previous years. Tailgating will occur on the Ragin Cajuns Football outdoor practice field.
Reserve a Space
Students can reserve a space (some even have a free tent) for your friends or a student organization through Engage. Log in with your ULID and a password, and complete the form in order to reserve your space. Again, only a limited number of spaces have tents, so the sooner you reserve, the better your opportunity to have one will be.
Questions
Please contact UPC at 337-482-6945, or e-mail at upc@louisiana.edu with any questions. You may also contact Greg Zerangue at 337-482-0192 or gregory.zerangue@louisiana.edu.
Come be a part of the Ragin' Cajun community, and get involved with a great season for our Ragin' Cajuns! Allons-y!