The University Program Council invites all students and organizations to participate in Homecoming Week 2017 events and festivities! This year, Homecoming Week is November 12 - November 18, 2017.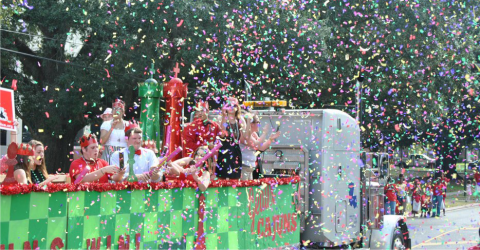 Homecoming Week activities include the "Yell like Hell" pep rally, Cajuns Got Talent, and Wear Red, Get Fed. Many other activities will occur all week in anticipation of the big game. On Homecoming Day, there is a parade and a tailgating party for all students.
Homecoming Court nomination forms are now available!  Every organization is allowed to nominate one female to participate in Homecoming Court interviews. Only one person per organization, please! The nomination form needs to be completed by Oct. 6, 2017 (sign in with your ULID to complete the form). All of the information your nominee will need on the application and interview process is included with the form.
Homecoming 2017 Student Events
Sunday, November 12th
11:00 am - Homecoming Mass at Our Lady of Wisdom
Monday, November 13th
10:00 am-2:00 pm - Cupcake Give Away at the Alumni Center
7:00 pm (start time) -Scavenger Hunt, beginning at Bayou Bijou Theatre. No need to preregister; just show!
Tuesday, November 14th
6:00 pm - Cajuns Got Talent; Cajundome Convention Center
Wednesday, November 15th
11:00 am-1:00 pm - Wear Red & Get Fed; Boucher Street
11:00 am-1:00 pm - Cajuns Can Care; Boucher Street
7:00 pm - Hypnotist Chris Jones; Bayou Bijou Theatre
Thursday, November 16th
7:30 pm - Yell Like Hell; Student Union Porch
Friday, November 17th
7:00 pm - NPHC Step Show; Cajundome Convention Center
Saturday, November 18th
10:00 AM - Homecoming Parade; line up at Blackham Coliseum begins at 8:30 am
1:00 pm - Tailgating: Bourgeois Park
4:00 pm - Ragin' Cajuns vs. New Mexico State Aggies